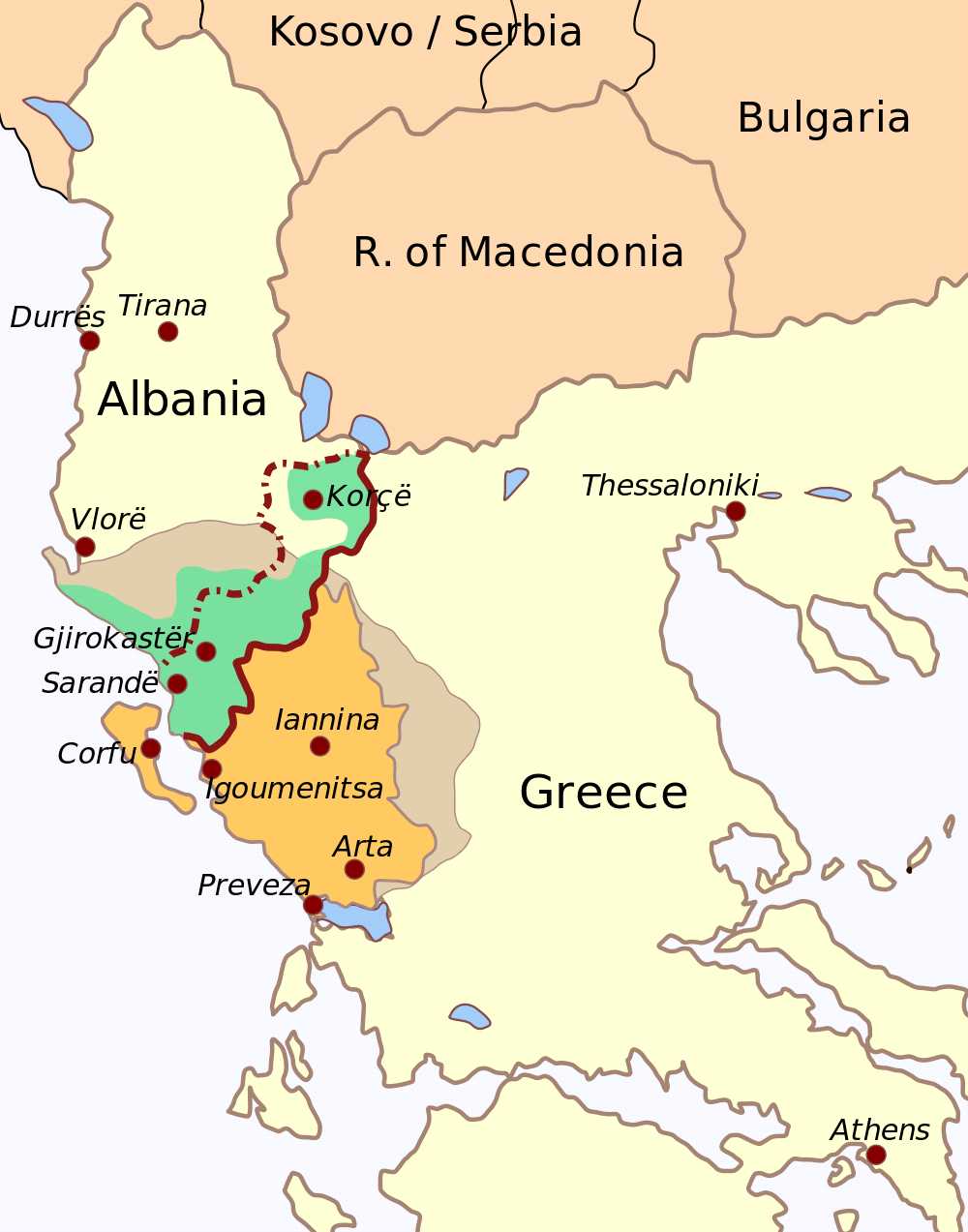 Map of Epirus 1900 AD [Wikipedia]



orange:

Modern administrative territory of Greek Epirus


grey:

Approximate extent of ancient Epirus


green:

Approximate extent of greatest concentration
of Greek speaking population in Albania at the
beginning of the 20th century


dotted red line:

political Northern Epirus, territory
occupied by Greece 1918-1923, then ceded to
Albania



The conquest of Epirus by

the Ottomans began with the fall of Ioannina 1430 AD. Turkish rule lasted about 300 years with a short intermezzo by the Albanian Skanderberg who occupied parts of Epirus 1443 AD. During the 19th century several attempts were made to gain independence of the region, however, without success. The Albanian Ali Pasha Tepelena became governor of Ioannina and ruled practically independent of the Sultan until 1822 when he was murdered by ottoman agents. The Berlin Congress of 1878 made vague promises to Greece concerning its territorial claims over Epirus. Greece invaded the region 1878/1879 trying to realize these promises, but was repelled by the Albanian population. Only Arta was incorporated into the Greek state.

The 1st Balkan war 1912/1913 resulted in the occupation of the major part of Epirus by the Greeks. The invasion began on October 18th. Konitsa, Permet, Erseka, Agioi Saranda (Αγιοι Σαράντα), Chimarra (Χειμάρρα) and Argyrokastro (Αργυρόκαστρο) were taken by the end of November and Korça (Κορυτσά) in December 1912. The Ottoman army capitulated in Ioannina on March 6th 1913. Albania proclaimed independence November 28th 1912. The distribution of Epirus between Albania and Greece was defined in the Florence-Line protocol under the influence of the Great Powers, Great Britain, France, Germany, Italy, Austria-Hungaria and Russia. The northern part was allocated to Albania the southern became Greek. The agreement was accepted by Greece on February 21st and the Greek army retreated from North Epirus in March 1914.



The Greek population of North Epirus was not prepared to accept the new situation and declared its independence on February 2nd 1914 founding the Autonomous Republic of Epirus. The German prince of Albania Wilhelm von der Wied was not able to subdue this autonomy. In May an agreement was reached in Corfu which left North Epirus with Albania granting extensive autonomy to the region.